Custom glass your way
There are many glass applications that do not fit under traditional product categories. Below you will find uses for glass innovations that you may not have considered. Once you experience them, you'll ask yourself how you lived without them. See how you can think glass and make life easier.
Our state-of-the-art glass computer program, along with our in-house fabrication finishing shop, gives L&L Glass a unique advantage in design, fabrication, and installation of the best quality custom glass interiors projects. We invite you to call or stop by one of our premier glass showrooms to speak with one of our innovative designers to help you create a glass masterpiece.
Dry Erase Boards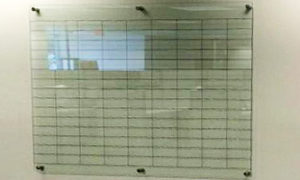 Traditional dry erase boards are a great concept – use them to write notes or sketch out ideas. The only problem is that you have to use a special dry erase pen and if you don't remove the ink quickly, it will bleed into the surface and never come out. We use glass to achieve the same idea with more sophistication and versatility. You can use dry erase pens or permanent pens and leave them on as long as you wish. With a simple cleaning, all marking will come off giving you a pristine, brand new look again. We can back paint any piece of glass to produce a dry erase board that lasts a lifetime.
Wine Features
Glass is the best way to showcase a wine collection. L&L Glass has many hardware options to help define the space in glass.
Desk Chair Mats
Glass floor mats are the way to go. Chairs roll much smoother on glass vs. the plastic mats found at local office supply centers. Contrary to what you may think about glass, these products are much more durable and longer lasting than the alternatives. Plus, we can cut to any shape and size you may need.
Lighted Applications
Running LED lights around the edges of glass creates a lot of WOW factor. L&L Glass can work with you or your electrician to make sure our glass rounds out the expectation you have for your space.
Structural Glass
People think of glass as a product that is sensitive and can break easily. So how can you actually step on glass without it breaking? L&L Glass has the ability to engineer glass to be used in floors so that is it structurally sound. This is a one of a kind floor, like no other!
Etched Glass
We etch for shower doors, signage and displays. Think of glass as a canvas to add your custom artwork and designs. You can send us a copy of some artwork you have or we can refer you to our etching designer and they can create a design for you. We work with you and the designer to make sure the design is properly applied to the glass. For example, on a shower door with multiple panels, we work with the designer to make sure the image is placed properly on the glass so there is a seamless transition of the image from one pane of glass to the next.
Fireplace Glass
Pyroceram® is a hard to find glass product specifically used for wood burning fireplaces. This type of glass can withstand temperatures up to 1200 degrees where regular tempered glass can only take up to 400 degrees. We are one of the only carriers of this type of glass in the area.
Backpainted Glass
Painted glass for backsplashes is extremely popular. Solid panels of glass in any color you can think of is a great way to upgrade the look of the kitchen. They are also very easy to clean as there are no grout lines to contend with. We custom cut the backsplash to fit the opening including cutouts for electrical outlets when applicable. We can also apply color to our specialty electrical outlets to match the color of the backsplash.
Glass Barn Doors
A lighter, modern twist on a rustic classic, top-hung glass barn doors quietly slide along a decorative rail to quickly close off a room without sacrificing natural light.
Cabinet Glass
Glass is a great way to add a tasteful element of design to your kitchen cabinets. We carry a wide range of popular pattern cabinet glass inserts. While we carry roughly 30 types of patterns, we have access to hundreds more. All of our offerings are locally supplied so turn around times are usually quite short. When installing glass in kitchen cabinets, you may want to consider glass shelves to compliment them. Glass shelves also allow for light to pass through the entire cabinet. If you happen to have lights installed inside the cabinets, glass shelves really showcase the product inside.
Glass Table tops
Table top glass is a great way to protect a solid surface or you can create a table out of glass itself. It is recommended to use 1/4″ glass when protecting table tops. Anything thinner is not quite strong enough and anything thicker is not necessary. We can shape the glass to follow the specific contours of your piece and we finish off the glass piece with polished edgework. There are other edgework options if you desire, but polished edges are most common. When using glass as the actual table itself, it is recommended to use 3/8″, 1/2″, or 3/4″ glass. A common application for this type of glass is a dining room table. It is usually best if these pieces are tempered to give it added strength and protection. Traditionally we finish off the piece with a flat polished edge, but there are other types of edgework that can be applied like a beveled edge.
Glass Shelves
Glass shelves add a level of elegance to any room or opening. There are many ways a glass shelf can be used. They can be fastened to a wall with clips or channeling. They can also be used as a raised surface with standoffs. A common application is for cabinet shelves. When using lighting in a cabinet, glass shelves allow light to filter throughout the cabinet where wood shelves would block the light.
Double Paned Glass
If your current window is cracked or the seal has broken and moisture is trapped inside, it is time to get it replaced. We build double pane units custom to your opening. You can call in your measurements for in shop pick up or we can set up a time to have one of our professionals come out, measure the opening and install the new unit for you.
Patterned Glass
There are many types of glass patterns for specific applications. The patterns for cabinet doors differ from the glass patterns used in shower enclosures. Speak to someone in our office or stop by one of our showrooms to see what options are available for your application.
Curved Glass or Bent Glass
We have the capability to measure to any radius and work with the world's leading supplier of bent glass to make sure the finished product is an exact fit for your opening.
Custom Glass Films
L&L Glass has done some pretty amazing glass projects, but we will be the first to say we have not seen it all. Many times customers bring a new idea and challenge to us. We love when customers have a vision and we welcome the opportunity to help work with you to create a glass product to fit your unique application.
Miscellaneous
There are many needs for glass that don't fall under certain product categories. For example, we cut glass for picture frames, glass inserts for lamps, glass for aquariums, etc. If you have a need for glass, we can probably take care of you. If not, we have a list of pre-qualified suppliers that can help you. We would be happy to refer you to them.